Hygge is a lifestyle that the Danish coined, meaning "a mood that invokes coziness, comfortability, and intimacy". This way of life is now becoming a trend in traditionally work-life imbalanced countries like Germany and the US. 
But what is it really? We're interested in diving deeper than country living's latest home trends and get to the brass tax of this homage to bliss in the face of simplicity and monotony. 
Hygge is more than a mood –  it is a way of being so it's a bit confusing if you don't understand it at its core. So how do you practice hygge? 
Set the scene  
The environment you live in has a great effect on hygge. No room that is hygge is complete without candles. For us, this might seem a little scary and possibly hazardous but the Danes swear by it. Just lighting a few candles when the nights get longer and days shorter will instantly lift your spirits and make your home smell and feel better. 
The next staple is cozy blankets and loungewear. Again, we want you to steer away from the trendy interpretation of hygge and focus on what you already have. Hygge doesn't mean you need to go out and buy that $100 sweatpant suit you were targeted for on Instagram, but it means to wear the sweatpants you already have and maybe splurge out for a new heavy blanket at target if that makes you feel comfortable and warm. Which brings us to our next point…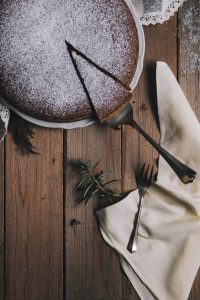 Eating your way to bliss 
Feed your soul and your body. Hygge means indulging in that extra slice of something good but not just eating junk food all day every day. There is always a balance between comfort and indulgence. Think of it like, if you ate an entire cake you will feel sick and not warm and cozy but if you have that extra slice you'll feel like you gave yourself a little leeway and you're still OK. Nutritious and warm foods are also hygge – think oatmeal and grandma's chicken soup recipe. Essentially anything that makes you comfortable and at peace. 
Sit with yourself 
Hygge is about enjoying life's simplest pleasures. This could mean going to your local park with a hot cocoa and a big coat and listening to nature or it could mean creating a nook or a 'hyggekrog' with your coziest blankets and pillows to tuck into a book. Sit with yourself and your loved ones and soak in the company. When we say sit with yourself we don't mean you have to sit alone but it means trying to set aside what is expected of you and just be. Be at ease and relax – you deserve it. 
We'd love to hear about how you're living hygge! Share your tips and tricks below. 
Looking to meet other like-minded women? Learn what it means to be an integrous member here.